The price of gold has skyrocketed over the past few months, moving up from $1,600 to over $2,000 per ounce, in increase of 25 percent.
With the recent turmoil in the banking industry, cryptocurrencies and continued inflationary pressure, investors are flocking to gold as a safe haven.
As the price of gold rises, it is driving the profitability of many top gold producers, including these mining stocks:
Barrick Gold Corporation (GOLD) – With a market cap of 35.141 Billion, Barrick Gold share prices have risen from $15.60 per share up to $20 per share.
Franco-Nevada Corporation (FNV) – Jumped from $123 to $157 since February
Wheaton Precision Metals (WPM) – Rose from $38 to $50 since March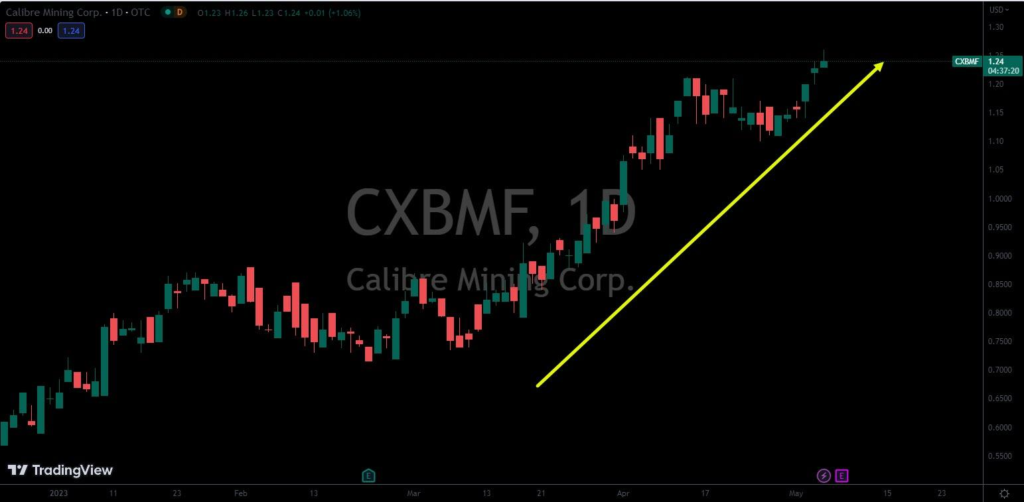 Barrick Gold Corp Daily Chart (Tradingview)
If individual stocks aren't your thing, then Exchange Traded Funds (ETFs) can spread your risk across a wide variety of mining stocks in the gold mining sector. Some of these ETFs include:
Van Eck Gold Miners ETF (GDX) – has traveled from $26 to $35 since March
SPDR Gold Trust ETF (GLD) – Has moved from $168 to $188 since March
Any way you look at at it, gold has been on the move. How much longer is anyone's guess, but almost evrey gold stock is at or nearing recent year's highs.
Stay tuned as we follow developments in this sector.
Spotlight on Gold Mining: Calibre Mining Co. (OTCQX: CXBMF)
Founded in 2010, Calibre Mining Corp. is a Canadian-listed, Americas focused, growing mid-tier gold producer with a strong pipeline of development and exploration opportunities across Nevada and Washington in the USA, and Nicaragua.
Calibre is focused on delivering sustainable value for shareholders, local communities and all stakeholders through responsible operations and a disciplined approach to growth.
With a strong balance sheet, a proven management team, strong operating cash flow, accretive development projects and district-scale exploration opportunities Calibre will unlock significant value. (Source: https://calibremining.com)
The rise in gold prices is due in part to global recession fears and inflationary pressures. Gold has long been thought to be a safe haven in uncertain economic times. In recent weeks, a spike in gold prices has been directly proportional to falling U.S. Dollar Index prices.
Calibre's Share Prices are Tracking Gold Prices.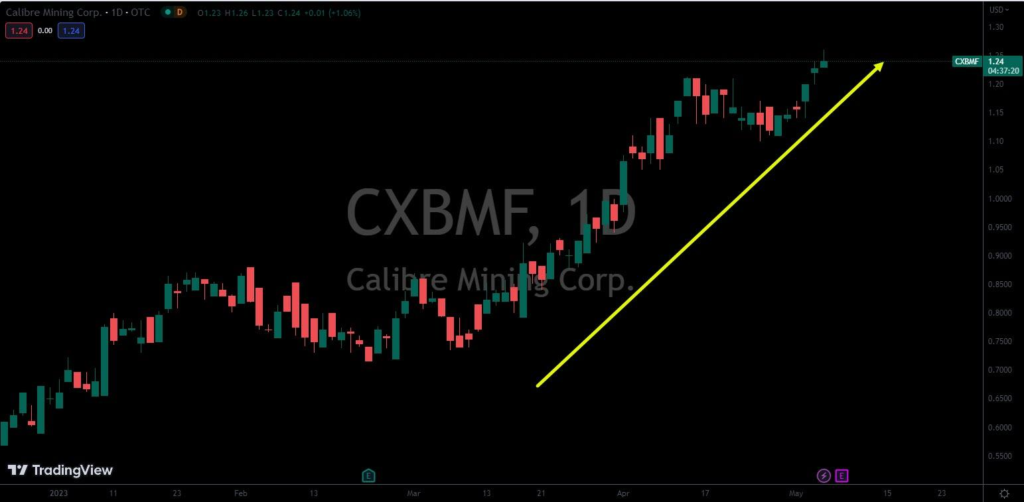 Not surprisingly, Calibre Mining Corp's share prices have also risen on nearly the same trajectory from a low of $0.38 cents per share to today's price of $1.24 – an increase of 226%. This represents a very strong increase from November's lows, and just shy of the recent high of $1.38 per share established on March 24, 2022.
If Calibre's stock performance continues its upward trajectory, and if gold prices continue to move past $2,000, then there could be continued growth in the share prices of Calibre stock.
If you would like to get more information on investing in Calibre Mining Corp., click here for more information on the investment opportunity.